2015
LBJ Liberty & Justice For All Award
James Clyburn
U.S. House of Representatives
Eric Holder
Former Attorney General
The Honorable James Clyburn
---
Congressman James Clyburn came to Congress in 1993 and during his eleven-term tenure has quickly risen through the ranks of leadership to be the third-ranking Democrat in the House. As a national leader, he has worked to respond to the needs of America's diverse communities through his work on civil rights and the Voter Empowerment Act. He has sought to drive new efforts to increase voter participation 50 years after the enactment of the Voting Rights Act.
James Clyburn has a tireless passion for justice and the bridging of racial and ethnic divides. His commitment to civil rights is longstanding, having worked with Dr. Martin Luther King, Jr. as the leader of the Student Non-Violent Coordinating Committee and helped organize many civil rights marches and demonstrations as a student leader at South Carolina State College. President Barack Obama has said of Congressman Clyburn that he is "one of a handful of people, who when they speak, the entire Congress listens." His legacy as a supporter and protector of civil rights and the Great Society ensures his place as a most worthy recipient of the LBJ Liberty & Justice for All Award.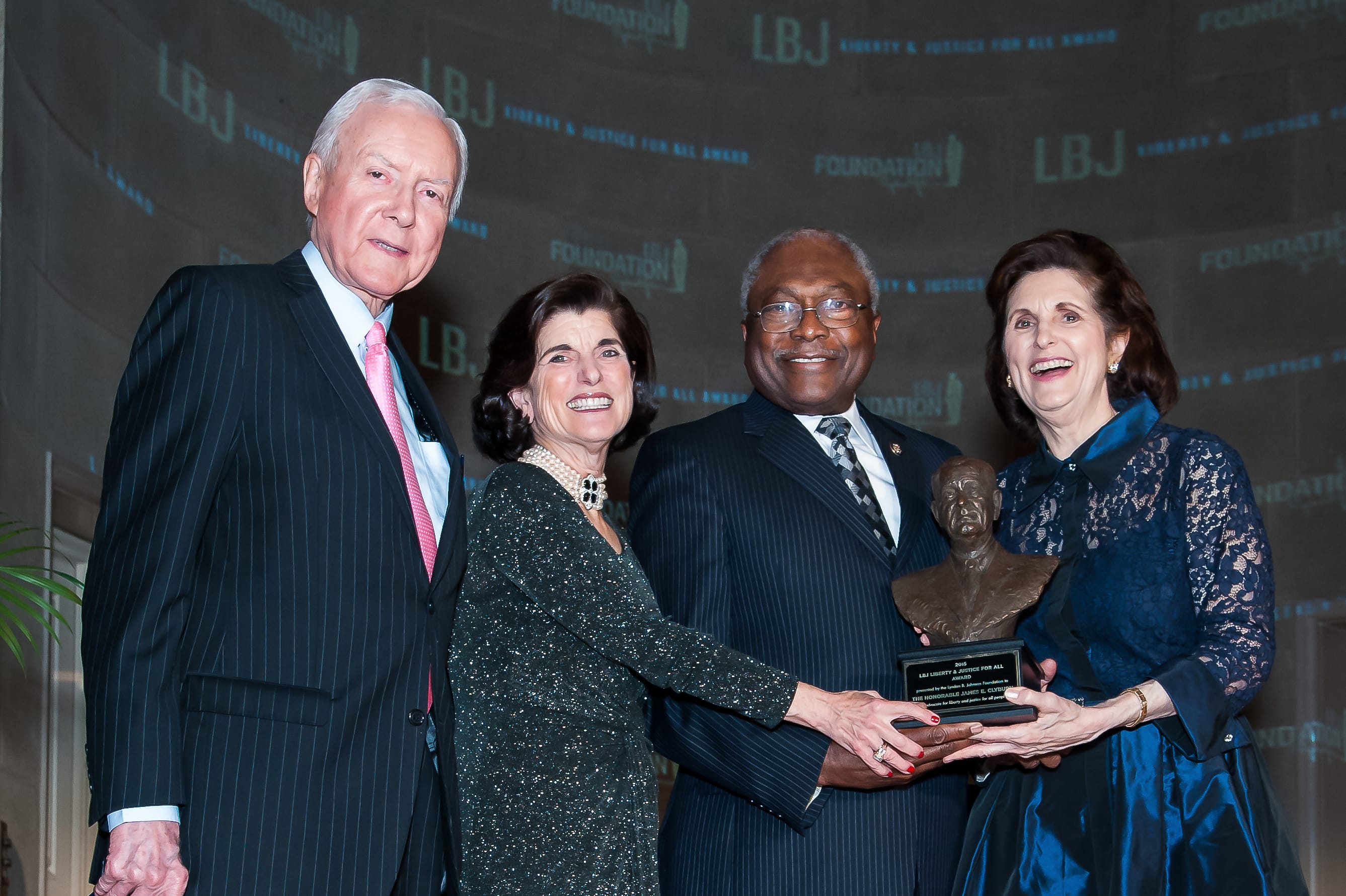 L-R: Senator Orrin Hatch, Luci Baines Johnson, Congressman James Clyburn, and Lynda Johnson Robb.
Photo by Tony Powell.
The Honorable Eric Holder
---
Eric Holder is an extraordinary public servant with unparalleled achievements. Throughout his long and distinguished career, Eric Holder defended some of the most influential legislation including Voting Rights, Immigration Law, and the development of the "Smart on Crime Initiative" which has impacted America's lower-income, minority communities. Eric Holder honorably served at the Department of Justice under six U.S. Presidents, including Presidents Reagan, Clinton, Bush and Obama.
Appointed in 2009, Eric Holder is our first African-American Attorney General and one of the longest-serving in U.S. history. President Obama said, "I chose him to serve as Attorney General because he believes, as I do, that justice is not just an abstract theory. It's a living and breathing principle." This is the essence of Eric Holder's work and his legacy. Deeply committed to his work with civil rights and equal opportunity for all, Eric Holder has shown America that his service is not only a testament to the leadership of our country, but also to the symbol that is the LBJ Liberty & Justice for All Award.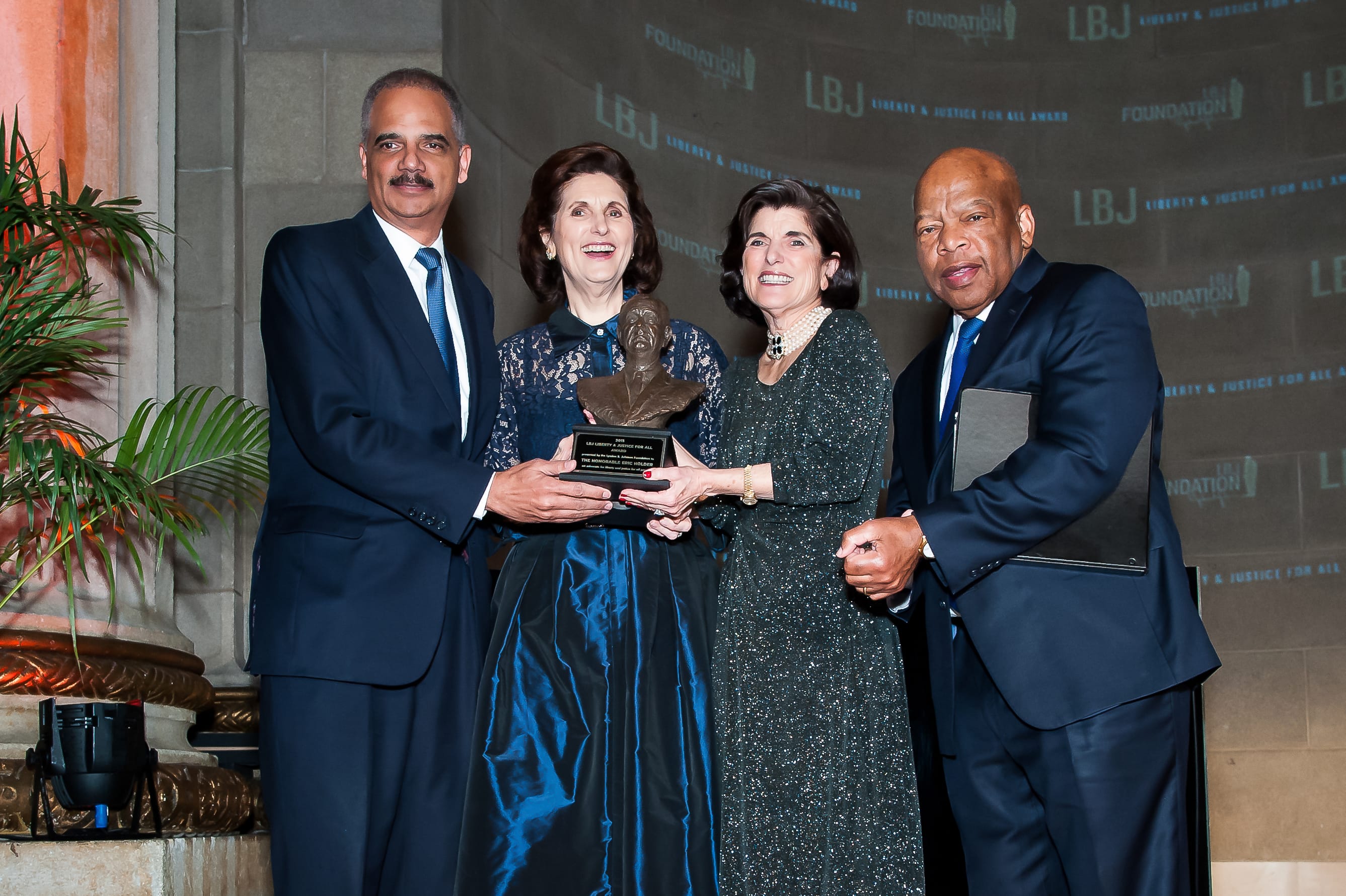 L-R: Former Attorney General Eric Holder, Lynda Johnson Robb, Luci Baines Johnson, and Congressman John R. Lewis.
Photo by Tony Powell.
Texas Honorary Committee
Congressman Joe Barton | Congressman Joaquín Castro | Congressman Henry Cuellar | Congressman Lloyd Doggett | Congresswoman Kay Granger | Congressman Al Green | Congressman Gene Green | Congressman Rubén Hinojosa | Congresswoman Sheila Jackson Lee | Congresswoman Eddie Bernice Johnson
Dinner Committee
Honorable Ben Barnes | Lyndon K. Boozer | Yolanda Caraway | Carl Davis | Honorable Rodney G. Ellis | Honorable Martin Frost | Honorable Lloyd Hand | Luci Baines Johnson | Honorable Ron Kirk | Marcus Mason | Melissa Maxfield | Joseph P. O'Neill | Florence Prioleau | Robert Raben | Lynda Johnson Robb | Dontai L. Smalls | John Valenti
Press Release
---
WASHINGTON, November 18, 2015 – The LBJ Foundation awarded the LBJ Liberty & Justice for All Award to Congressman James E. Clyburn and former Attorney General Eric Holder for their work in expanding the opportunities for all of our nation's citizens and carrying forward the legacy of President Lyndon B. Johnson.
"Through decades of unparalleled leadership, Congressman Clyburn and Attorney General Holder have distinguished themselves as great protectors of Americans' civil liberties. They embody the beliefs that President Johnson held dear—that our mission in public service is to right wrongs, to do justice and to serve man," said Ben Barnes, Vice Chairman of the LBJ Foundation.
The award ceremony took place at the Andrew W. Mellon Auditorium in Washington, D.C. with Gwen Ifill as Master of Ceremonies. Special guests included award presenters Senator Orrin G. Hatch and Congressman John R. Lewis.
Event Videos
---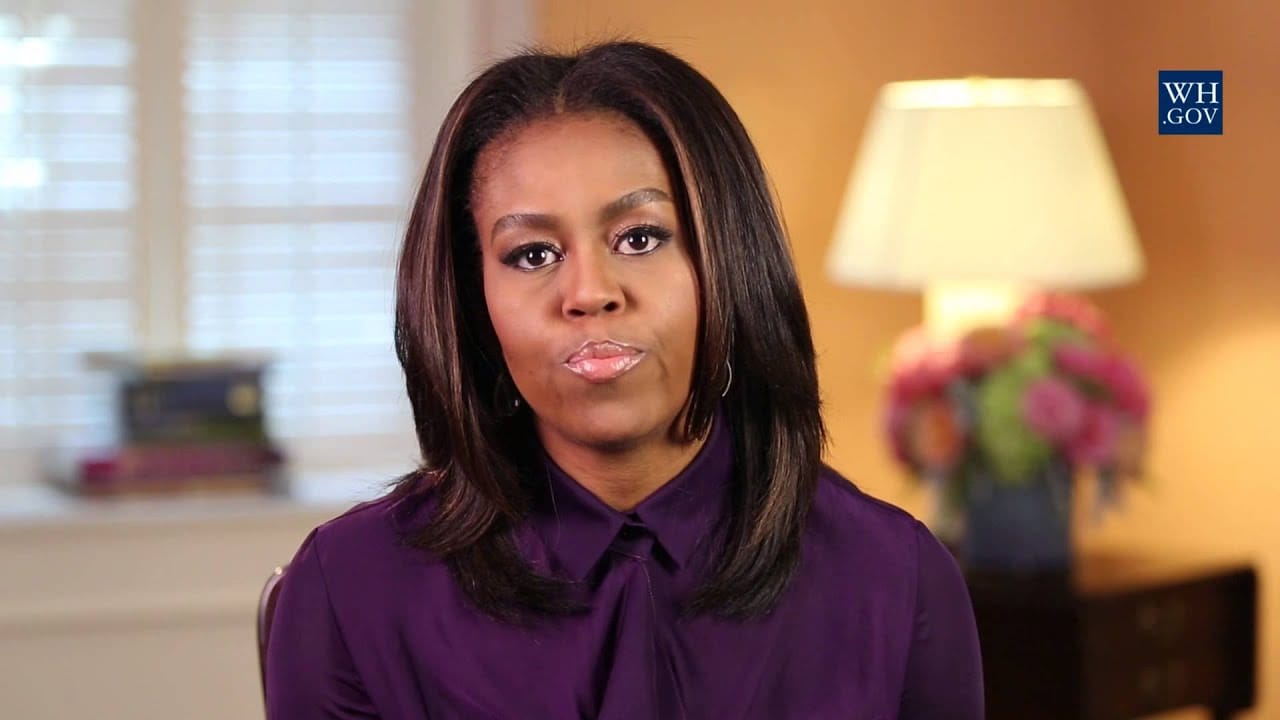 Congratulatory video remarks by First Lady Michelle Obama
2015 LBJ Liberty & Justice for All Award - James Clyburn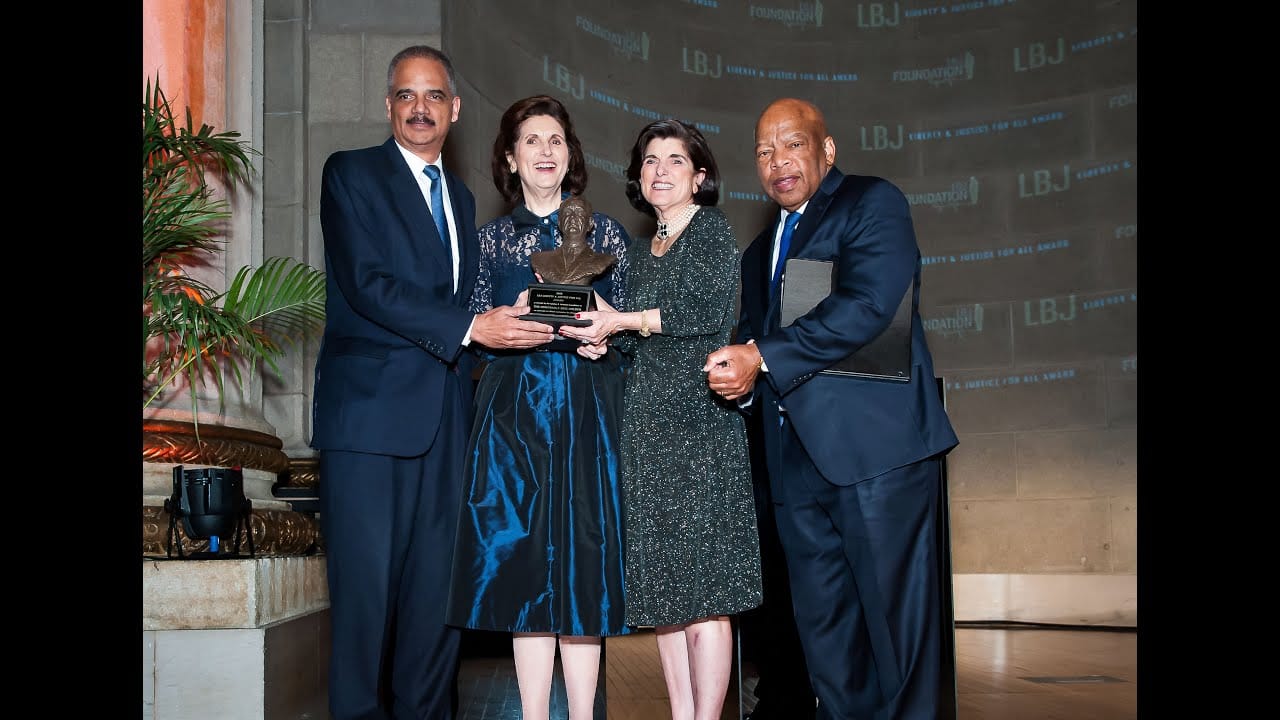 2015 Liberty & Justice for All Award - Eric Holder
The net proceeds from the award dinner benefited The LBJ School of Public Affairs' Washington Center.
Sponsors
---
Host
AT&T
BET Networks
Lockheed Martin
Ovation
Leader
Comcast NBCUniversal
Elva and Lawrence O'Brien Family Trust
Advocate
Dr. and Mr. Robert L. Allbritton
Mrs. Barbara B. Allbritton
Honorable Ben Barnes
Eleanor B. Crook
DirecTV
Honorable Lloyd and Ann Hand
Intuit
Luci Baines Johnson and Ian Turpin
King and Spalding
Microsoft
Honorable and Mrs. Lyndon L. Olson, Jr.
Pfizer
The Lynda Johnson Robb Family
SCANA Corporation
Southern Company
Louann and Larry Temple
T-Mobile
UPS
WilmerHale
Patron
Aflac
Altria
Joseph A. Califano, Jr.
Capitol Counsel LLC
Congressional Black Caucus Foundation
Deloitte
Harris County Judge Ed Emmett
Entertainment Software Association
Governor William P. Hobby
Honorable and Mrs. James Jones
iHeartMedia
International Association of Machinists & Aerospace Workers
International Union of Bricklayers and Allied Craftworkers
ManattJones Global Strategies
MGM Resorts International
Motley Rice LLC
National Association of Broadcasters
National Beer Wholesalers Association
Office and Professional Employees International Union 277
Public Strategies Washington, Inc.
SEIU
SIFMA
John Valenti
Vianovo
Walmart
Warners Bros. Entertainment Inc.
Wine & Spirits Wholesalers of America
Wine Institute
Believer
BNSF Railway
CTIA-The Wireless Association
The Funger Foundation
Beth and Wayne Gibbens
International Paper
Motion Picture Association of America
National Stone, Sand and Gravel Association
Nucor Corporation
Regions Financial Corporation
Univision Communications Inc.
The Walt Disney Company
Washington Government Relations Group
"There are no problems we cannot solve together, and very few that we can solve by ourselves."
- President Lyndon B. Johnson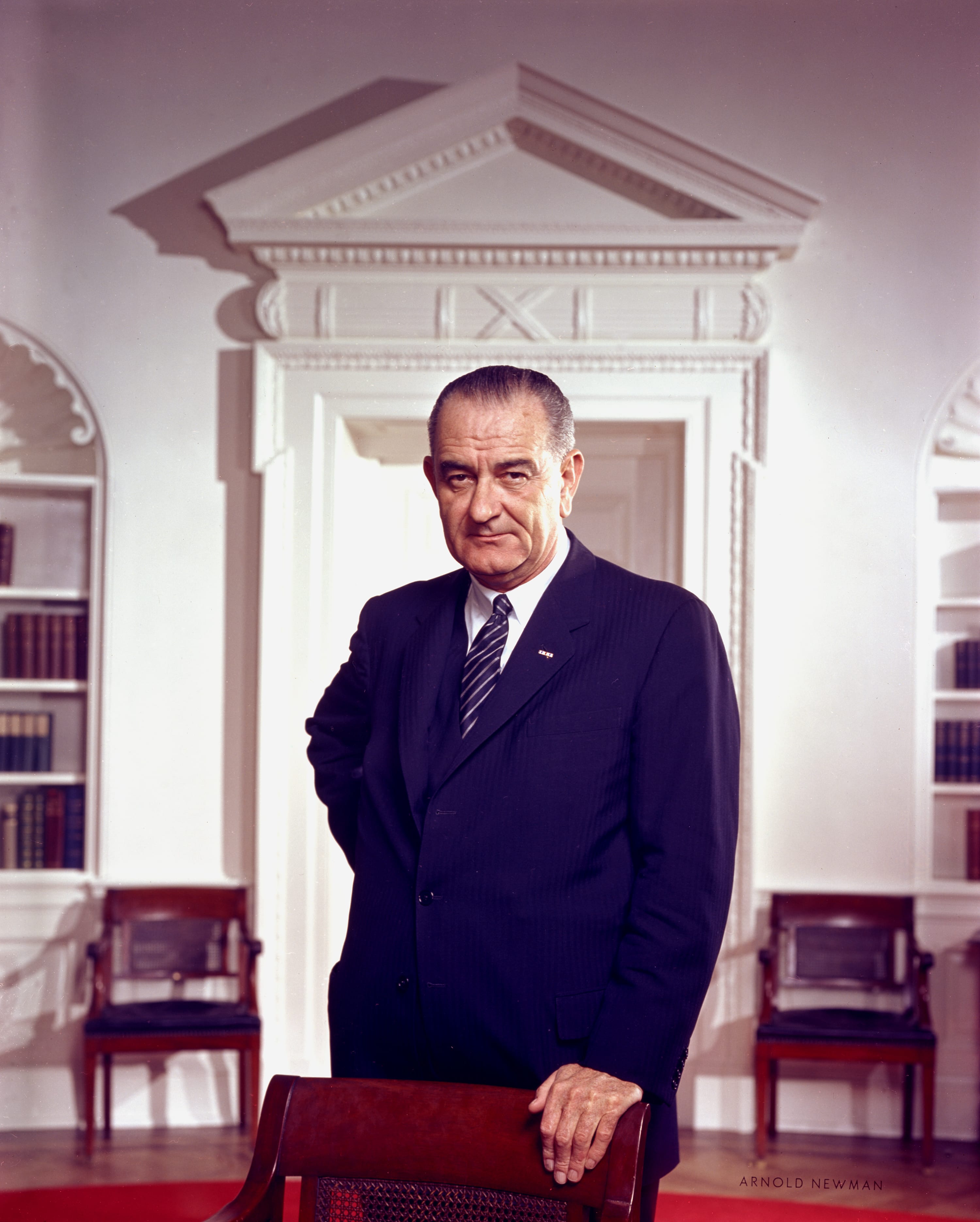 About the LBJ Foundation
---
Established by President and Mrs. Johnson in 1969, the LBJ Foundation is a nonprofit organization comprised of a board of trustees and administrative staff that supports the LBJ Presidential Library and the LBJ School of Public Affairs at The University of Texas at Austin.
The LBJ Presidential Library, operated under the auspices of the National Archives and Records Administration, maintains the archive of President Johnson's administration and political career and promotes his legacy while providing, in his words, "a springboard for the future" through public programming aimed at addressing the issues of our time. The Foundation enhances the Library by directing public programming, administering the museum's store and admissions operations, and directing grants for researchers and scholars.
The LBJ School of Public Affairs embodies President Johnson's living legacy by nurturing leaders and public servants in the hopes that they will pursue what he called "the oldest, most basic mission of our country: to right wrong, to do justice, to serve man." The Foundation provides financial support for the school for the outstanding education it offers its graduate students in public policy and government affairs, community outreach, and global initiatives.
All bearing our 36th President's name, these three institutions—the LBJ Foundation, the LBJ Presidential Library, and the LBJ School of Public Affairs—preserve Lyndon B. Johnson's consequential legacy while pursuing his hopeful vision for the future.