2013
LBJ Liberty & Justice For All Award
George H.W. Bush
41st President of the United States
Press Release
---
HOUSTON, TX – The LBJ Foundation has awarded the LBJ Liberty and Justice for All Award to former President George H.W. Bush, in recognition of his leadership in public service and commitment to civil rights. In a ceremony on Tuesday, December 3, 2013, at the offices of our 41st President in Houston, Texas, Foundation Board members presented President Bush with the award. Joining President and Mrs. Bush at the presentation were his son, Neil, and his wife, Maria, and grandson Pierce Bush. Representing the Johnson family were Lynda Johnson Robb and Luci Baines Johnson.
The LBJ Liberty and Justice for All Award honors those, like President Bush, who personify Johnson's vision of a nation where every citizen can share in the benefits and full blessings of American life. Our nation's oldest living former president, President Bush is acknowledged for his strong character marked by decency and civility.
"Presentation of this award to President Bush recognizes his demonstrated qualities of civility and bipartisanship in public service," said Larry Temple, Chairman, LBJ Foundation. "The period of his presidency stands as a well-remembered time when those qualities characterized leadership in our country at the highest levels – a condition from which all Americans benefited. I know President Johnson would be elated with the presentation of this award, the LBJ Foundation's highest honor, to President Bush."
This is only the second time the award has been given; the inaugural award was presented in 2010 to Georgia Congressman and civil rights pioneer John Lewis.
"I am honored to be this year's recipient of the LBJ Liberty and Justice for All Award," said President Bush. "For several years now I've been declining awards of all kinds, but this one was different. Barbara and I both had such great respect for LBJ and of course we loved Lady Bird. They were both great Americans, and great Texans, who loved their country and their state. I can't imagine if they had not been a part of our history. So I immediately said "yes," when our friends and neighbors in Austin invited me to receive this award. But I do wonder what LBJ would say?"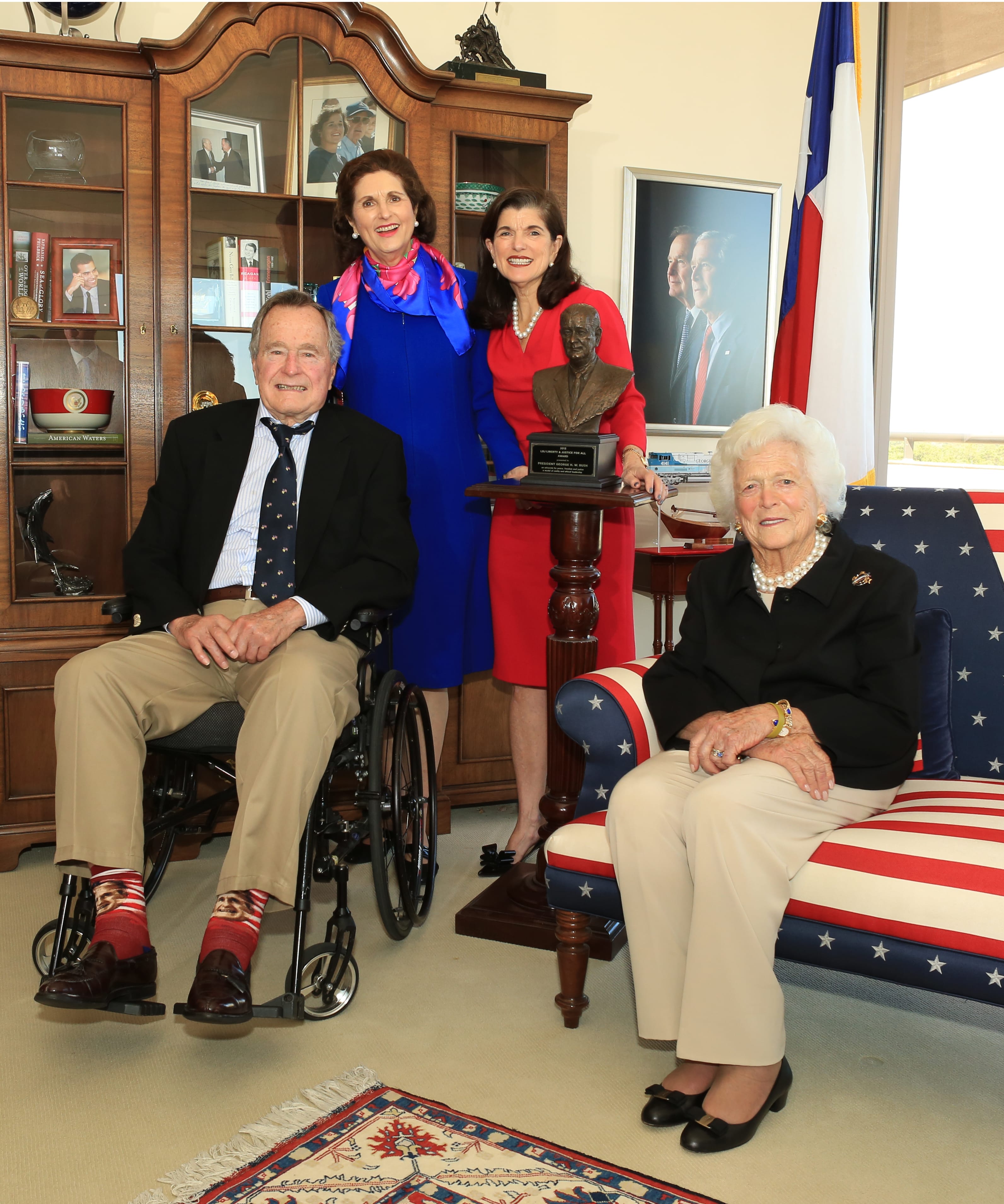 L-R: George H.W. Bush, Lynda Johnson Robb, Luci Baines Johnson, and Barbara Bush. Photo by McNee Productions.
Sworn in as president in January 1989, Bush served until January 1993. As commander-in-chief, he saw a peaceful end to the Cold War, helping to pick up the pieces of the former Soviet Union and Eastern Bloc nations and quietly preventing chaos from ensuing after the Iron Curtain fell. Later in his term, he led a coalition of nations toward the liberation of Kuwait after the Iraqi seizure in the Gulf War. On the domestic front, among the laws he passed were the Americans with Disabilities Act, a landmark civil rights law, and the Clean Air Act.
Since leaving office, Bush has helped to raise millions of dollars for charity, including MD Anderson Hospital, and worked to help raise funds to aid in disaster relief efforts in America and abroad.
The Bush and Johnson families share a long history and friendship, beginning in the 1950s when Lyndon Johnson served in the U.S. Senate with Prescott Bush, George H.W. Bush's father. Although from different political parties, the two men enjoyed a productive working relationship steeped in mutual respect. In a letter to Prescott Bush, George H.W. Bush wrote about first meeting Johnson in Midland, Texas, in 1953. When Senator Johnson complimented his father, Bush replied that he was glad to hear such praise from a staunch Democrat. Johnson responded, "Your father and I don't like to be thought of as Republican or Democrat, rather as good Americans!"
Bush embraced the spirit of bipartisanship when he was elected to Congress as the first Republican representing the Houston area. Although it hurt him politically, he voted for the Civil Rights Act of 1968, which was passed by President Johnson. In a speech in Houston, shortly after he cast the vote, Bush explained the motivation behind his decision. "I voted...because of a feeling deep down in my heart that this was the right thing for me to do. That this was the right thing for America."
A year later, when President Johnson's term ended, Congressman Bush left the Inaugural festivities for Johnson's successor, Richard Nixon, to bid farewell to the former President and First Lady at Andrews Air Force Base among a crowd of Democrats. Mrs. Johnson later recalled, "I remember the warm glow Lyndon and I felt when we learned that a young Republican Congressman, George Bush, had been in that assemblage, rather than at the Inaugural activities of the President of his own party."
In April 1990, President and Mrs. Bush welcomed Mrs. Johnson, members of the Johnson family, and former Johnson Administration Cabinet members to the White House for a 25th anniversary celebration of President Johnson's Inauguration.
The longstanding friendship between the Johnson and Bush families was carried on by President George W. Bush when he invited Lynda Johnson Robb, Luci Baines Johnson, and their families to the White House where he signed a 2007 law naming the Education Building in Washington, D.C., after President Johnson.
The ceremony in Houston is just the latest chapter in the relationship between the Bush and Johnson families. Joining in the presentation were Jean Becker, Chief of Staff to President Bush, along with members of the LBJ Foundation Board including former Texas Lt. Governor Ben Barnes; Texas Senator Rodney Ellis; Wayne Gibbens; former Texas Lt. Governor Bill Hobby; Robert Hutchings, Dean, LBJ School of Public Affairs; Tom Johnson, LBJ Foundation Chairman Emeritus; Cappy McGarr; Roy Spence; Larry Temple, LBJ Foundation Chairman; and Mark K. Updegrove, LBJ Library Director.
"There are no problems we cannot solve together, and very few that we can solve by ourselves."
- President Lyndon B. Johnson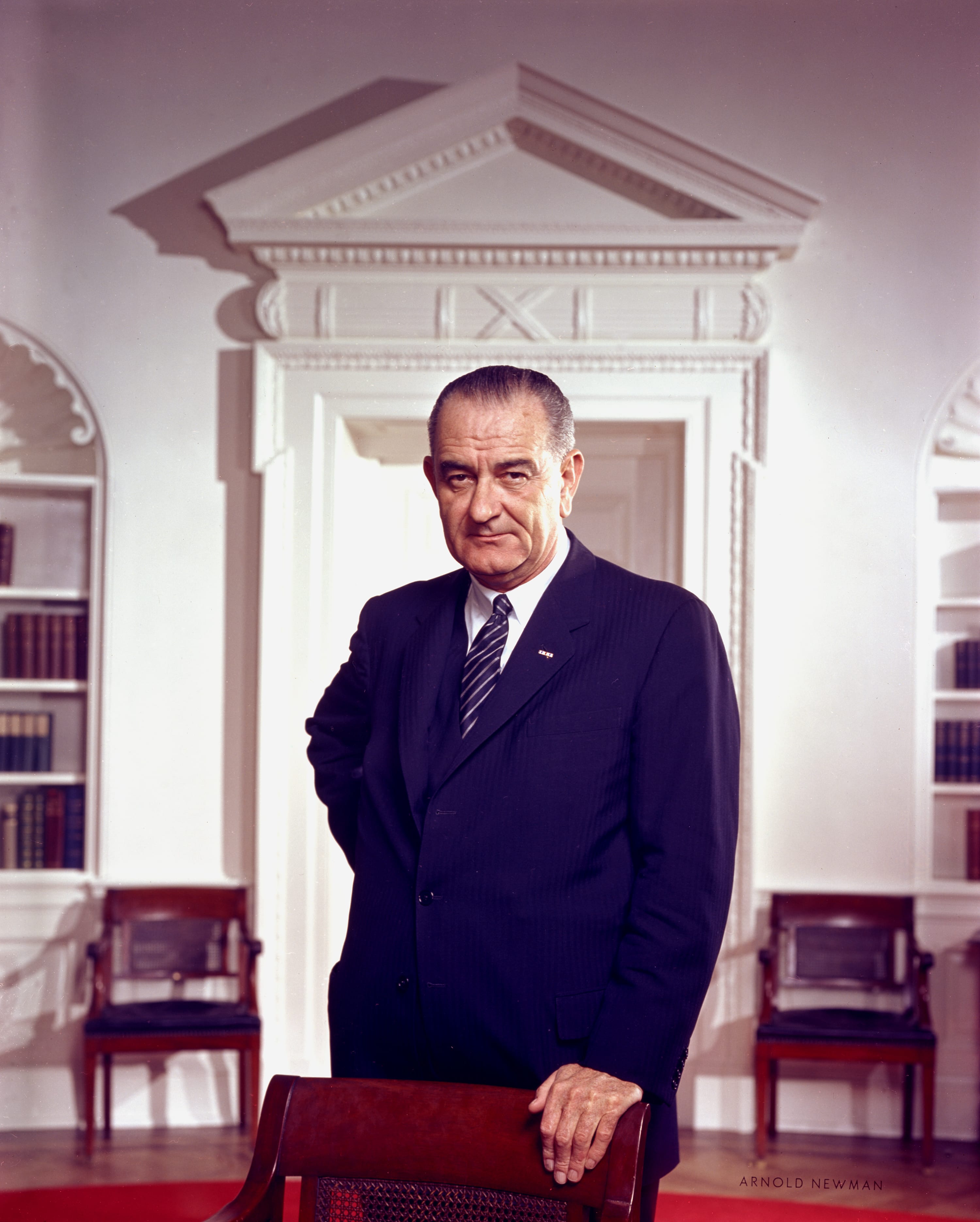 About the LBJ Foundation
---
Established by President and Mrs. Johnson in 1969, the LBJ Foundation is a nonprofit organization comprised of a board of trustees and administrative staff that supports the LBJ Presidential Library and the LBJ School of Public Affairs at The University of Texas at Austin.
The LBJ Presidential Library, operated under the auspices of the National Archives and Records Administration, maintains the archive of President Johnson's administration and political career and promotes his legacy while providing, in his words, "a springboard for the future" through public programming aimed at addressing the issues of our time. The Foundation enhances the Library by directing public programming, administering the museum's store and admissions operations, and directing grants for researchers and scholars.
The LBJ School of Public Affairs embodies President Johnson's living legacy by nurturing leaders and public servants in the hopes that they will pursue what he called "the oldest, most basic mission of our country: to right wrong, to do justice, to serve man." The Foundation provides financial support for the school for the outstanding education it offers its graduate students in public policy and government affairs, community outreach, and global initiatives.
All bearing our 36th President's name, these three institutions—the LBJ Foundation, the LBJ Presidential Library, and the LBJ School of Public Affairs—preserve Lyndon B. Johnson's consequential legacy while pursuing his hopeful vision for the future.