2019
LBJ Liberty & Justice For All Award
Speaker Nancy Pelosi
U.S. House of Representatives
Speaker Nancy Pelosi
---
Nancy Pelosi is the 52nd Speaker of the House of Representatives. As Speaker, Pelosi is fighting for the people by working to lower healthcare costs, increase workers' pay through strong economic growth, and cleaning up corruption to make Washington work for all.
First elected Speaker in 2007 and serving through 2011, she made history as the first woman in the position. When the Democrats regained the majority in the 2018 midterm elections, she was re-elected as Speaker, making her the first former Speaker to return to the position since Sam Rayburn in 1955.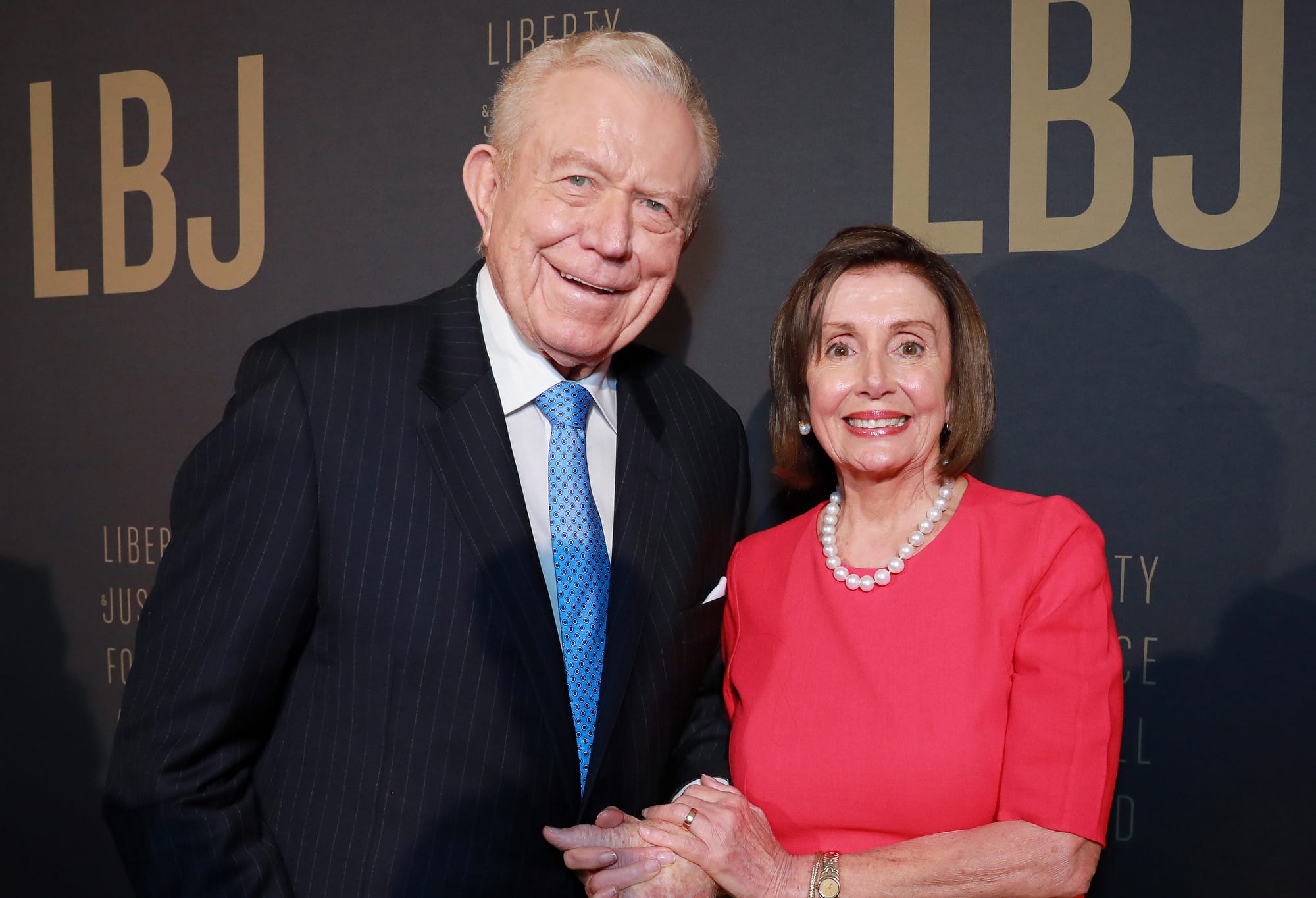 Ben Barnes, event chair and vice chairman of the LBJ Foundation, and Speaker Nancy Pelosi.
LBJ Library photo by Amanda Rhoades
.
Event Chair
The Honorable Ben Barnes
Vice Chairs
Ambassador Lloyd Hand
Cappy McGarr
Liberty & Justice Committee
Dean Aguillen | Lyndon K. Boozer | Honorable Tom Daschle | Honorable Martin Frost | Luci Baines Johnson | Meghan C. Johnson | W. Thomas Johnson | Honorable James R. Jones | Honorable Ron Kirk | Laurie Knight | Melissa Maxfield | Michael Monroe | Honorable Lyndon L. Olson, Jr. | Joe O'Neill | Lynda Johnson Robb | Arshi Siddiqui | Shamina Singh | Andy Spahn | Larry E. Temple | Tonya Williams
Press Release
---
WASHINGTON – On Oct. 30, 2019, the LBJ Foundation will award its most prestigious honor, the LBJ Liberty & Justice for All Award, to the Hon. Nancy Pelosi, Speaker of the House of Representatives.
One of the most consequential political figures of her generation, Pelosi made history in 2007 when she was elected the first woman to serve as Speaker of the House. Pelosi made history again in January 2019 when she regained her position as second-in-line to the presidency, the first person to be renamed Speaker in over half a century.
Larry Temple, chairman of the LBJ Foundation, said: "For more than three decades, Nancy Pelosi has shown herself to be one of the most consequential congressional leaders since LBJ himself wielded power as the Senate Majority Leader. Speaker Pelosi embodies the beliefs that President Johnson held dear—that our mission in public service is to serve the common good and provide opportunity to all."
The LBJ Liberty & Justice for All Award will be held Wednesday, Oct. 30 at the Andrew W. Mellon Auditorium in Washington. Judy Woodruff, anchor and managing editor of PBS NewsHour, will serve as emcee, and the Hon. Ben Barnes will serve as event chair. Vice Chairs are the Hon. Lloyd Hand and Cappy McGarr.
"Just as LBJ was the master of the Senate, Speaker Pelosi has shown herself to be a master of the House," said Ben Barnes, who also serves as vice chairman of the LBJ Foundation.
Prominent guests expected to attend include Rep. John Lewis (D-GA); Luci Baines Johnson and Lynda Johnson Robb, daughters of President Johnson; and senior congressional leaders.
The Hon. Nancy Pelosi
Nancy Pelosi comes from a strong family tradition of public service. Her late father, Thomas D'Alesandro Jr., served as Mayor of Baltimore for 12 years, after representing the city for five terms in Congress. Her brother, Thomas D'Alesandro III, also served as Mayor of Baltimore.
But Pelosi has forged her own path in Congress. Among her many accomplishments, she led the House passage of the American Recovery and Reinvestment Act in early 2009 to create and save millions of American jobs and provide a tax cut to 95 percent of working Americans. Speaker Pelosi was the architect of the landmark Affordable Care Act, which has guaranteed protections for all Americans with preexisting medical conditions, ended annual and lifetime limits on health coverage, and provided affordable health coverage for tens of millions more Americans.
Speaker Pelosi also led the Congress in passing strong Wall Street reforms to rein in big banks and protect consumers, and the Student Aid and Fiscal Responsibility Act, which expands educational opportunities and reforms the financial aid system to save billions of taxpayer dollars. Additional key legislation passed into law include the Lilly Ledbetter Fair Pay Act to restore the ability of women and all workers to access our judicial system to fight pay discrimination; legislation to provide health care for 11 million American children; national service legislation; hate crimes legislation; an increase in the minimum wage for the first time in 10 years; the largest college aid expansion since the GI bill, and a new GI education bill for veterans of the Iraq and Afghanistan wars. As Speaker, Pelosi has made the climate crisis her flagship issue, enacting comprehensive energy legislation that raised vehicle fuel efficiency standards for the first time in 32 years.
Event Videos
---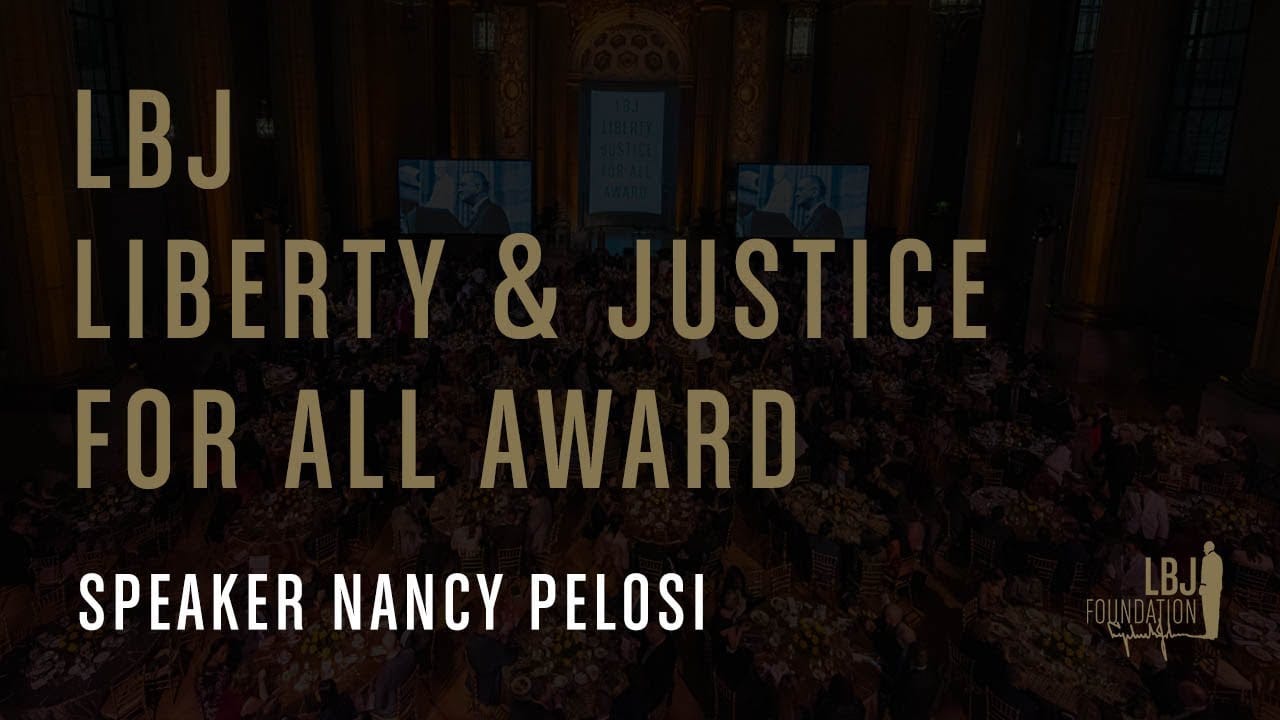 Highlights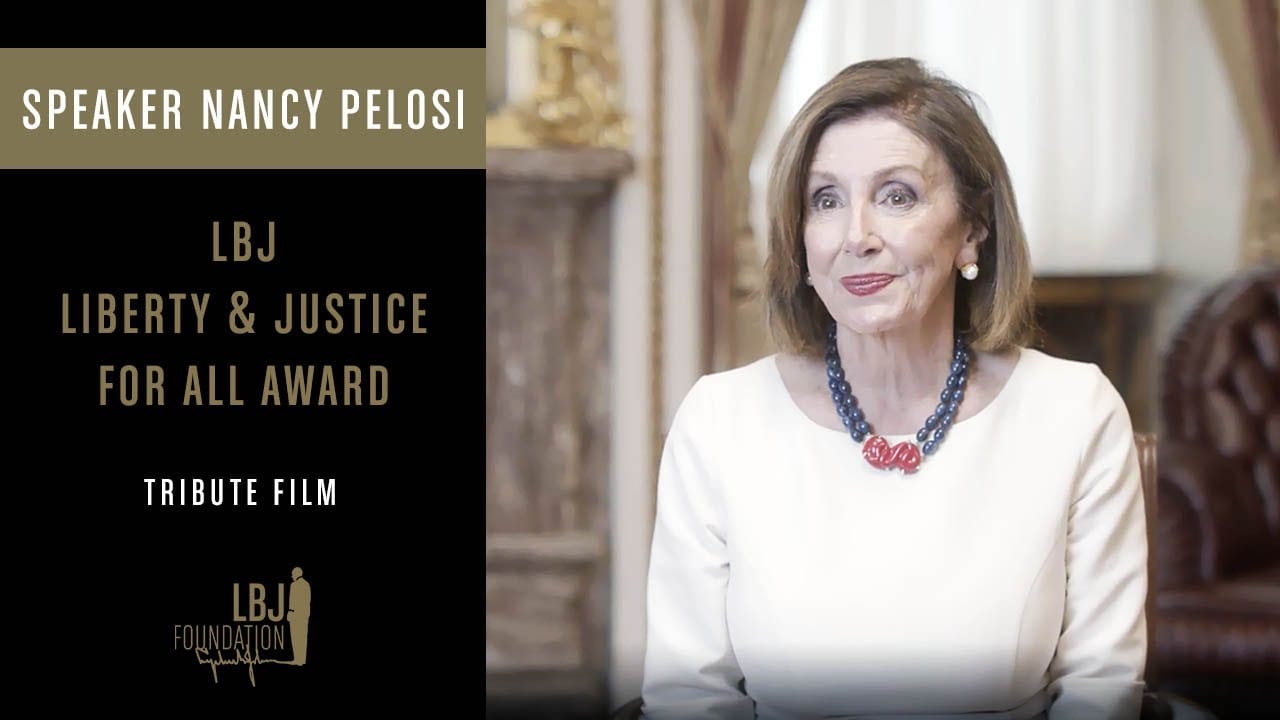 Tribute Film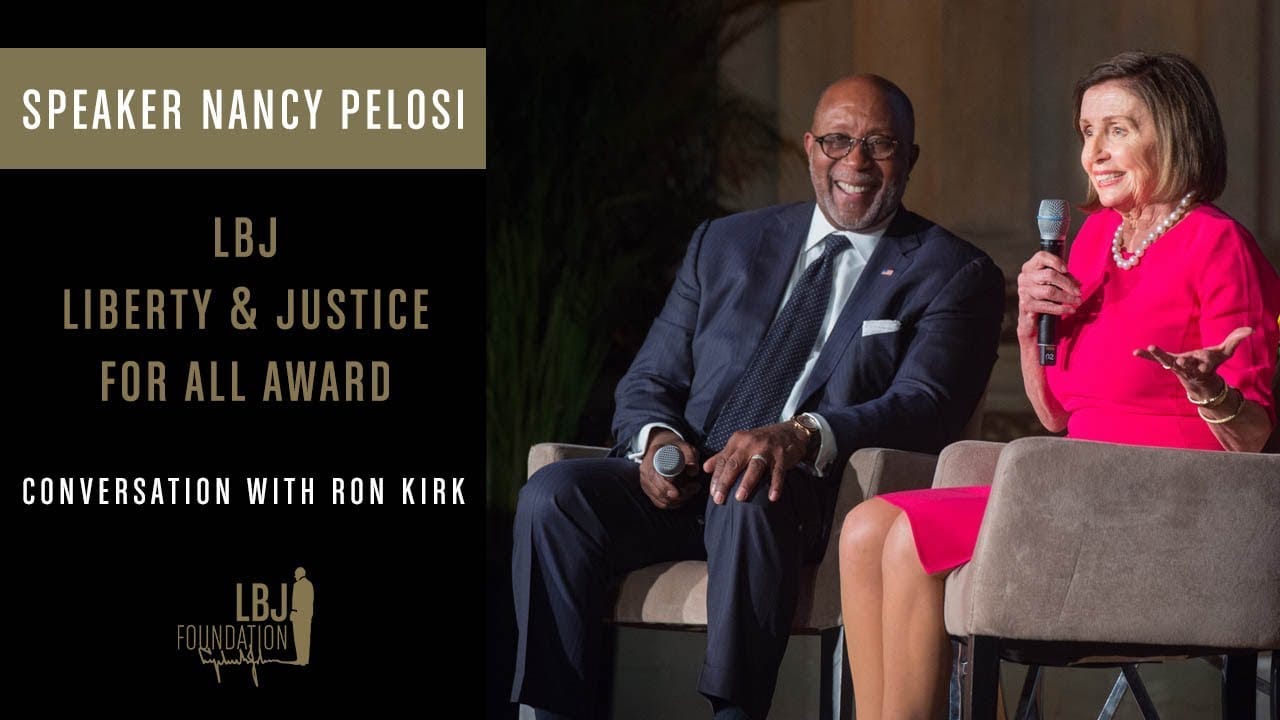 Conversation with Ron Kirk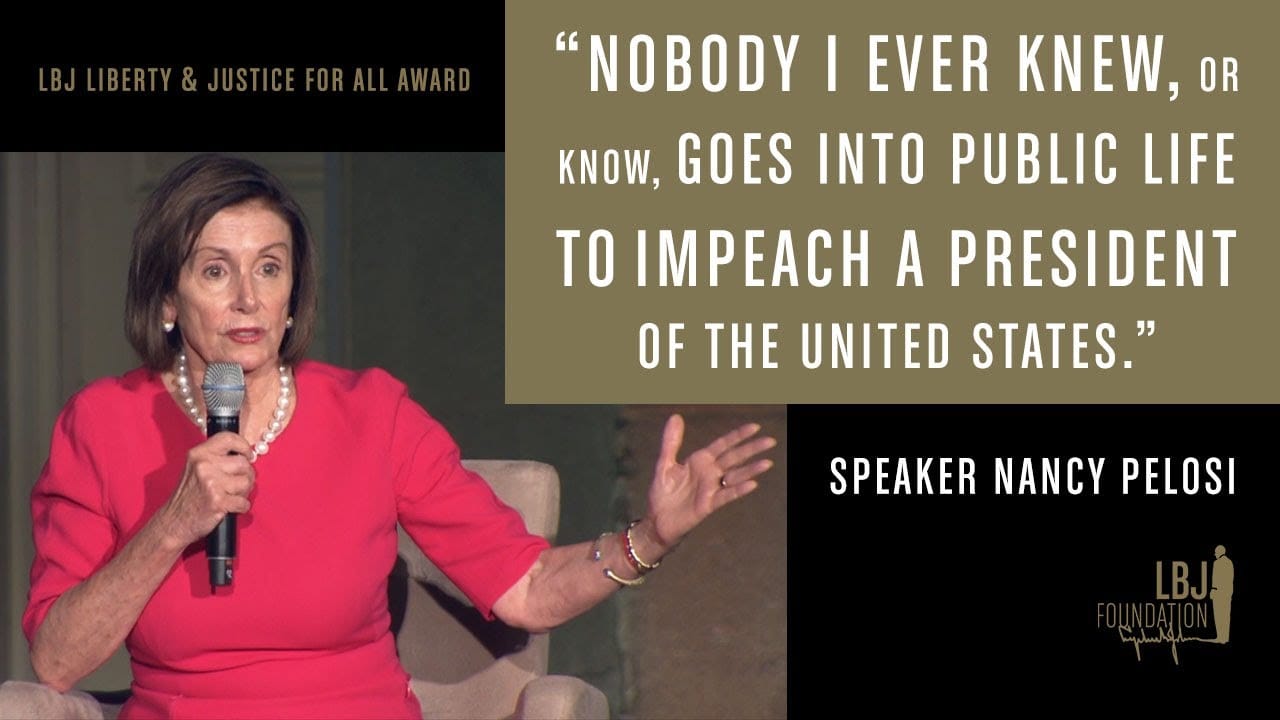 On the Impeachment Inquiry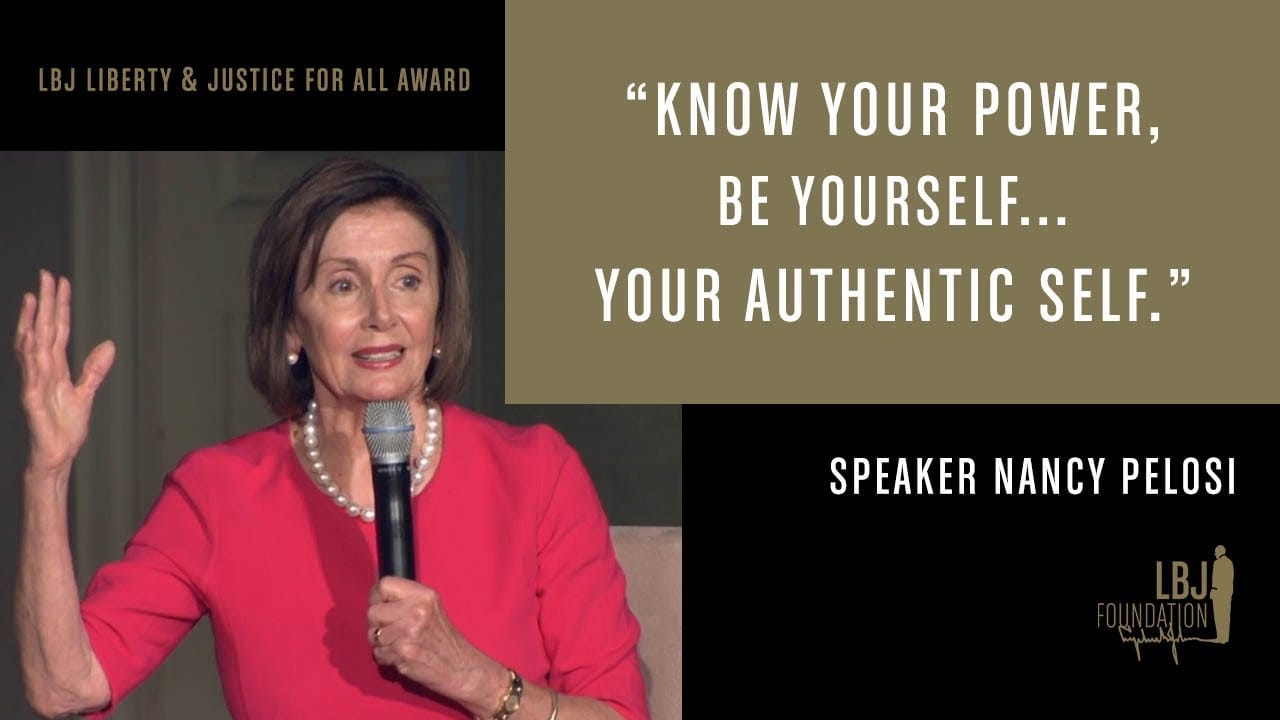 Advice to Young People
The net proceeds from the award dinner benefited The LBJ School of Public Affairs.
Sponsors
---
Leader
Lynda Johnson Robb
Luci Baines Johnson
President
Judy & Peter Blum Kovler Foundation
Point72
Vice President
Comcast NBCUniversal
Cindy & Alan Horn
Laborers' International Union Of North America (Liuna)
Mastercard
Lawrence F. O'Brien III & Family
Softbank
Senator
AARP
Akin, Gump, Strauss, Hauer & Feld, LLP
AT&T Services, Inc
Honorable Ben Barnes & Liz Barnes
Blavatnik Family Foundation
Genentech
Hobby Family Foundation
Huntsman Corporation
International Brotherhood of Electrical Workers
International Brotherhood of Teamsters
Jim & Heather Johnson
Edwina & Tom Johnson
Jeanne & Mickey Klein
Lennox
Mr. & Mrs. Edward J. Mathias
Cary Patterson
Public Strategies Washington
The Rapoport Family
RJ Reynolds Tobacco
Rx Saver
Larry & Louann Temple
UPS
Representative
Aflac
AFSCME
Bank of America
Katherine & David Bradley
Joseph A. Califano, Jr.
Eleanor Crook
Trammell S. Crow
Honorable Thomas Daschle & Linda Daschle
Distilled Spirits Council of The United States
Honorable Chris Dodd
Honorable Martin Frost
FTI Consulting
Mr. & Mrs. Wayne Gibbens
Honorable Lloyd N. Hand
IBC Bank
International Union of Bricklayers & Allied Craft Workers
International Union of Painters & Allied Trades, AFL-CIO
Honorable Jim Jones
King & Spalding
Lockheed Martin
Melissa Maxfeild
Cappy & Janie McGarr
Microsoft
Motley Rice LLC
National Association of Broadcasters
National Association of Realtors
National Beer Wholesalers Association
NCTA–the Internet & Television Association
North America's Building Trades Union
Honorable & Mrs Lyndon L. Olson, Jr
Oracle America, Inc
Pepsico
Regions Financial Corporation
Reid, Collins & Tsai, LLP
Sheet Metal Workers' International Association
Southern Company
T-Mobile
Transport Workers Union Travelers
United Association of Plumbers & Pipefitters (UA)
United Technologies
USTelecom
Viacom
Courtenay Valenti
Vistra Energy
Walmart
Wine Institute
Constituent
Altria Client Services
Joe Batson
Lyndon & Karen Boozer
International Federation of Professional & Technical Engineers
Invariant
Peaches & Shrub Kempner
Tamera Luzzatto & David Leiter
Andy Manatos
Keith W. Mason
Motion Picture Association
National Committee To Preserve Social Security & Medicare
W. Devier Pierson
Honorable Joe R. Reeder & Kate Boyce
Arshi Siddiqui
"There are no problems we cannot solve together, and very few that we can solve by ourselves."
- President Lyndon B. Johnson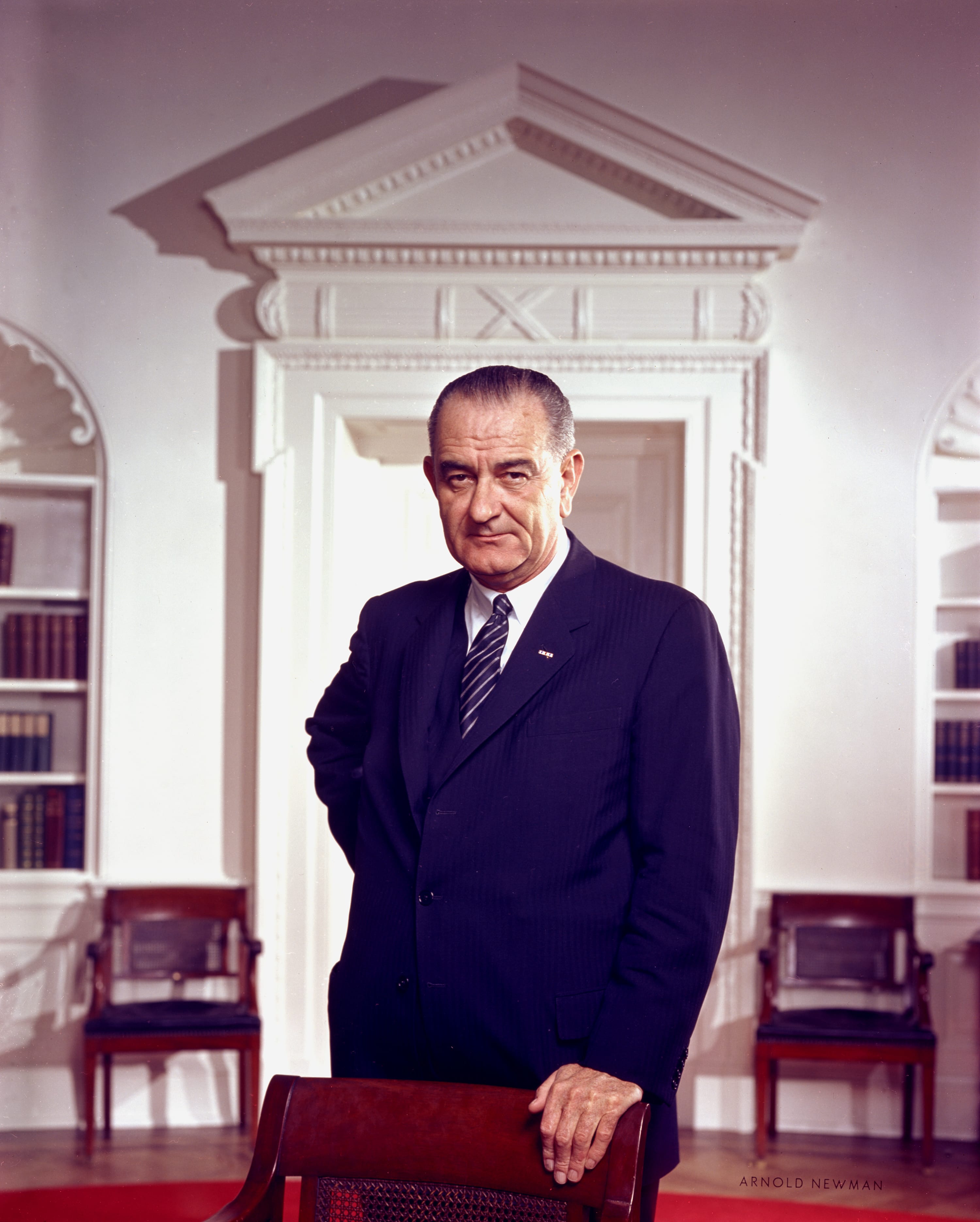 About the LBJ Foundation
---
Established by President and Mrs. Johnson in 1969, the LBJ Foundation is a nonprofit organization comprised of a board of trustees and administrative staff that supports the LBJ Presidential Library and the LBJ School of Public Affairs at The University of Texas at Austin.
The LBJ Presidential Library, operated under the auspices of the National Archives and Records Administration, maintains the archive of President Johnson's administration and political career and promotes his legacy while providing, in his words, "a springboard for the future" through public programming aimed at addressing the issues of our time. The Foundation enhances the Library by directing public programming, administering the museum's store and admissions operations, and directing grants for researchers and scholars.
The LBJ School of Public Affairs embodies President Johnson's living legacy by nurturing leaders and public servants in the hopes that they will pursue what he called "the oldest, most basic mission of our country: to right wrong, to do justice, to serve man." The Foundation provides financial support for the school for the outstanding education it offers its graduate students in public policy and government affairs, community outreach, and global initiatives.
All bearing our 36th President's name, these three institutions—the LBJ Foundation, the LBJ Presidential Library, and the LBJ School of Public Affairs—preserve Lyndon B. Johnson's consequential legacy while pursuing his hopeful vision for the future.